Your gift will help change lives one child and family at a time!
$40 will provide food for George and Teddy,
on-site therapy dogs who provide much
love and comfort.
$111 will provide one hour of Outpatient
treatment for a child or family.
$200 will provide clothing and personal care
items for one of the 12 boys in our
Therapeutic Group Home.
$555 will provide art,therapy, and school
supplies for Therapists to use with
children participating in treatment.
$1,000 will provide snacks and dinner for
a month for children participating in the
Extended Day Treatment Program.
Thank you for your support!
Reaching Out
More children are struggling with mental health issues today than ever before. In fact, behavioral and emotional disorders affect thousands of children right here in our community. And it is a sad truth that two-thirds of these kids never receive the help they need.
The good news is that treatment does work for those who receive it.
Child Guidance Center is dedicated to providing child-centered, family-focused mental health services in Lincoln. Utilizing a combination of unique programs and proven strategies to meet every individual's needs, we serve more than 2,000 children and adolescents each year.
The services we provide are available to all youth throughout the community, regardless of financial ability.
How Positive Thoughts Make You Healthier
Posted on 10/09/2017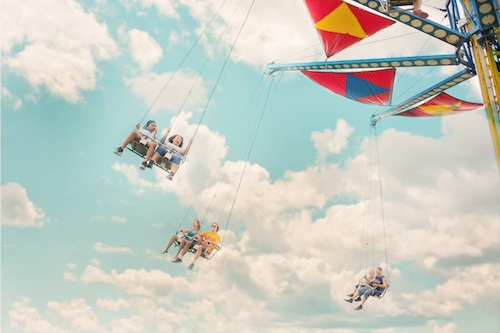 Negativity. It's all around us, on our social media feeds, on the news, even in our thoughts. Sometimes it seems like there is no way of avoiding it. Negativity can swallow us up, bring us down and ruin our days, weeks, months, life. And once you start feeling negative, it can be very difficult to push those thoughts out and focus on something else.
On the other hand, positivity is often a scarce commodity. In the effort toward living an altruistic lifestyle, positivity helps us stay focused on what is most important—moving forward—rather than being bogged down in negative circumstances.
Turns out, living a positive lifestyle has more benefits than just "feeling better." Focusing on positive thoughts can actually impact your overall health. How, you ask? Today we dive in and see how positive thoughts can make you healthier.
1. Positive thinking fights depression.
What better way to fight depression and negative thinking than with positive thoughts? Recent studies have shown that one of the major factors leading to depression is negative self-talk. When you make the switch from pessimistic thinking to focusing on positivity, you combat depression and drastically change its effects. Now, this isn't to say that depression in its entirety can be overcome simply by changing your mind, but it can help in resisting and refocusing your mind away from the depression.
2. Positive thinking decreases stress.
With positivity comes the release of happy hormones such as serotonin and endorphins. These hormones help to decrease our stress levels, making us feel more relaxed and energized. And, with decreased stress levels comes overall better health, including a better cardiovascular condition. When you refocus your mind on thinking more positively, you help to decrease your overall stress and improve health.
3. Positive thinking helps you live longer.
When your stress levels are decreased and your health is improved, you are more likely to live a longer life. A recent study in Denmark found that hospital patients who had a more positive outlook were 58% more likely to live at least another five years. Other studies have demonstrated that positive thoughts lead to a lower rate of death from illnesses such as cancer, heart disease, hypertension or diabetes. Sounds like a whole lot of benefits for one simple mindset change. So, if you're hoping to avoid illness and live a long, happy life, start with a positive first step.
4. Positive thinking strengthens your immune system.
One of the reasons you live longer with positive thinking is because it strengthens your immune system. Thinking negatively has been known to cause greater electrical activity in areas of your brain, weakening your immune response and making you more susceptible to conditions such as the common cold or influenza. However, when you focus on positive thinking, this tends to have the opposite effect, and strengthen your immune system to fight off smaller—and sometimes larger—ailments.
5. Positive thinking gives you coping skills.
Finally, positive thinking gives you coping skills when your physical and mental health encounter difficulties in the future. For example, when something goes wrong, such as losing a job, having a strong positive thinking process makes you more likely to respond optimistically, helping you to overcome the challenge faster and bounce back quickly. The more you practice positivity, the more likely it is to have a lasting impact on your life.
If you want to feel better and live a healthier, more altruistic lifestyle, try implementing more positive thoughts into your self-talk. Next time you're feeling down, turn that around and focus on positive aspects, and increase your overall wellbeing.
Wednesday, October 10, 2018 8:00 am - Thursday, October 11, 2018 12:00 pm
NEW CGC Program - Parenting
For more information about our Parenting Program click here! 
---