Your gift will help change lives one child and family at a time!
$40 will provide food for George and Teddy,
on-site therapy dogs who provide much
love and comfort.
$111 will provide one hour of Outpatient
treatment for a child or family.
$200 will provide clothing and personal care
items for one of the 12 boys in our
Therapeutic Group Home.
$555 will provide art,therapy, and school
supplies for Therapists to use with
children participating in treatment.
$1,000 will provide snacks and dinner for
a month for children participating in the
Extended Day Treatment Program.
Thank you for your support!
Reaching Out
More children are struggling with mental health issues today than ever before. In fact, behavioral and emotional disorders affect thousands of children right here in our community. And it is a sad truth that two-thirds of these kids never receive the help they need.
The good news is that treatment does work for those who receive it.
Child Guidance Center is dedicated to providing child-centered, family-focused mental health services in Lincoln. Utilizing a combination of unique programs and proven strategies to meet every individual's needs, we serve more than 2,000 children and adolescents each year.
The services we provide are available to all youth throughout the community, regardless of financial ability.
Top 10 Reasons to Become a Tutor
Posted on 10/30/2017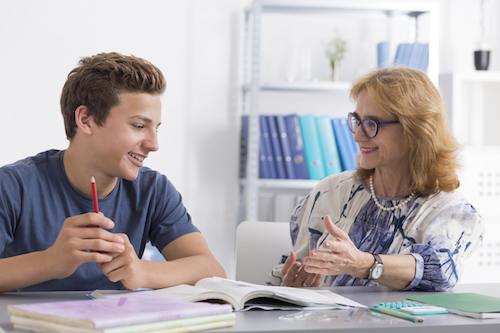 Education is the key to success. You've probably heard a statement like this time and time again throughout your life. Focus on your education and lead a more successful life later on. However, school and systemic learning doesn't always come easily to everyone.
One such way you can lead a more altruistic life is within the education system, by giving your time and resources to become a tutor. Tutors help students young and old to better their education, improve their skills and gain more success in a field of their choice. Why should you consider becoming a tutor? Today, we give the top 10 reasons.
1. Boost a student's confidence.
Tutoring is a great way to help boost a student's confidence. Whether that student is beginning elementary school or is an adult learner, there's nothing more satisfying than watching the look of understanding pass across their face in a ginormous smile.
2. Improve your own confidence.
Not only can tutoring help a student's confidence, but it can help yours, too. First-time tutoring can be pretty nerve-wracking, so when you do see a student fully grasp a concept, self-confidence in your own skills improves as well.
3. Expand your knowledge.
We can't all be experts on everything. When a student has a problem or question you don't fully know the answer to, it gives you an opportunity to expand your own knowledge in various areas.
4. Gain experience teaching.
If you're interested in teaching or working in a classroom, then tutoring is the perfect chance to gain more experience and see if it would be the right path for you. Plus, if you're already on the path to become a teacher, then tutoring gives you that extra edge of experience for the future.
5. Add to your resume.
Whether you choose to volunteer as a tutor or work for money, tutoring still adds valuable content to your resume, making you more marketable for potential careers later on.
6. Enjoy flexible hours.
The best thing about tutoring is that it's often one-on-one, which makes scheduling a breeze. If you're looking for a job that can fit into your busy scheduling, tutoring provides flexible hours.
7. Earn extra income.
While some tutoring is volunteer-based, others can also provide extra income. If you're looking for a job to give a little more wiggle room in the monthly budget, tutoring is a great option.
8. Build valuable relationships.
Of course, tutoring also gives you the opportunity to build valuable relationships with your students. Make new friends, become a mentor figure and create a lasting impression in someone's life through a tutoring relationship.
9. Give back to the community.
If you want to help your community, then tutoring is an awesome way to do so. Support those around you by giving back through your time and resources.
10. Have fun!
Finally, tutoring is just plain fun. While school can be difficult, finding new and engaging ways to teach the material creates an enjoyable and personal environment for you and your students.
If you want to lead a more altruistic life, consider tutoring in your community. Not only are there great potential benefits for you, but you can feel confident in helping others around you, as well.
NEW CGC Program - Parenting
For more information about our Parenting Program click here! 
---