Your gift will help change lives one child and family at a time!
$40 will provide food for George and Teddy,
on-site therapy dogs who provide much
love and comfort.
$111 will provide one hour of Outpatient
treatment for a child or family.
$200 will provide clothing and personal care
items for one of the 12 boys in our
Therapeutic Group Home.
$555 will provide art,therapy, and school
supplies for Therapists to use with
children participating in treatment.
$1,000 will provide snacks and dinner for
a month for children participating in the
Extended Day Treatment Program.
Thank you for your support!
Reaching Out
More children are struggling with mental health issues today than ever before. In fact, behavioral and emotional disorders affect thousands of children right here in our community. And it is a sad truth that two-thirds of these kids never receive the help they need.
The good news is that treatment does work for those who receive it.
Child Guidance Center is dedicated to providing child-centered, family-focused mental health services in Lincoln. Utilizing a combination of unique programs and proven strategies to meet every individual's needs, we serve more than 2,000 children and adolescents each year.
The services we provide are available to all youth throughout the community, regardless of financial ability.
Celebrating National Blood Donor Month
Posted on 01/08/2018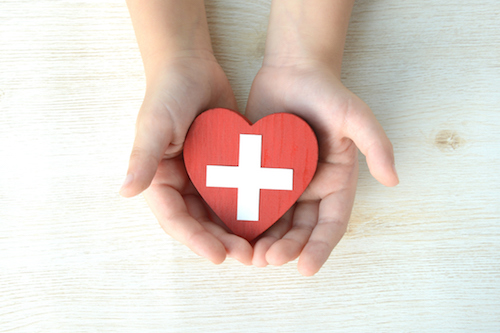 It's officially January, which means it's the month of beginnings in the new year, a cold winter and of course Dr. Martin Luther King Jr. But did you know January also has a significant impact for those in need? That's right—January is recognized as National Blood Donor Month. According to the American Red Cross, in the United States alone, someone is in need of blood every two seconds. That factors out to about every one in seven people who enter a hospital.
Yet despite the significant need for blood donations, few people actually take steps toward making a difference. Although an estimated 38% of the U.S. population are eligible to donate blood, less than 10% actually do. During the winter months especially, donation shortages can become a serious issue. With cold weather, busy holiday schedules and increases in sickness, January can deter even the most dedicated of donors. This has a severely negative impact, causing issues such as blood shortages, especially during a season with risk of accidents.
When January was declared National Blood Donor Month in 1970, its purpose was to recognize current blood donors for their giving, attract new donors and bring awareness to an issue which affects all of us. With 2018 underway, how can you celebrate National Blood Donor Month? Check out a few ideas for how you can roll up a sleeve and give through January and the year.
1. Find out if you're eligible.
Most importantly, the first step in celebrating National Blood Donor Month is to find out if you're eligible to donate. According to the American Red Cross, the eligibility requirements for donating include: (1) be of 17 years or older; (2) weigh at least 110 pounds; (3) be in good general health and feel well on the day of donation. Depending on where you donate, eligibility requirements may fluctuate. When donating whole blood, donors can give every 56 days, or every eight weeks. If you choose to donate blood platelets, plasma or power red, eligibility requirements and donation frequency fluctuates as well. Check with your donation bank or a local blood drive to be certain of your eligibility and frequency requirements.
2. Decide on a location.
There are two main ways to donate blood: either through a local blood bank or a national supplier. National suppliers of blood, like the American Red Cross, collect blood from all across the country, then redistribute it to areas in need. According to their website, the Red Cross collects approximately 40% of the nation's blood supply and distributes it to about 2,600 hospitals and transfusion centers across the United States. This means that if you donate blood in North Dakota, your contribution could go to help disaster relief efforts in Texas.
Local blood banks are just that: local. Community blood banks typically collect less blood from a smaller population area, but then use that blood within a localized geographic region. So if you give to a blood bank in your community, you can feel confident that your donation is going to help somewhere near you, perhaps even a neighbor, friend or family member. Deciding on where you want to donate is a great step in giving this January. Maybe you don't particularly care, as long as someone receives the blood. Maybe you care a lot, and decide based on your convictions. No matter what you decide, you can make a valuable contribution for others either closeby or far away.
3. Conquer your fears.
The number one reason people say they donate blood is because they "want to help others." On the other hand, two of the most common reasons for not donating are "Never thought about it" and "I don't like needles." All in all, the entire donation process—from registration to cookies—takes approximately one hour, with less than a minute of that time consisting of a needle poke. If needles tend to be an anxiety of yours, consider this: one minute of discomfort can make a world of difference for someone else in need. Your single donation can save up to three lives. That sounds like a pretty great reason to conquer your fears.
This January, celebrate National Blood Donor Month by taking steps to go out, roll up your sleeve and give. Set the tone for the month and the rest of the year to live more altruistically.
NEW CGC Program - Parenting
For more information about our Parenting Program click here! 
---