Your gift will help change lives one child and family at a time!
$40 will provide food for George and Teddy,
on-site therapy dogs who provide much
love and comfort.
$111 will provide one hour of Outpatient
treatment for a child or family.
$200 will provide clothing and personal care
items for one of the 12 boys in our
Therapeutic Group Home.
$555 will provide art,therapy, and school
supplies for Therapists to use with
children participating in treatment.
$1,000 will provide snacks and dinner for
a month for children participating in the
Extended Day Treatment Program.
Thank you for your support!
Reaching Out
More children are struggling with mental health issues today than ever before. In fact, behavioral and emotional disorders affect thousands of children right here in our community. And it is a sad truth that two-thirds of these kids never receive the help they need.
The good news is that treatment does work for those who receive it.
Child Guidance Center is dedicated to providing child-centered, family-focused mental health services in Lincoln. Utilizing a combination of unique programs and proven strategies to meet every individual's needs, we serve more than 2,000 children and adolescents each year.
The services we provide are available to all youth throughout the community, regardless of financial ability.
Giving Back While Going Back to School
Posted on 08/27/2018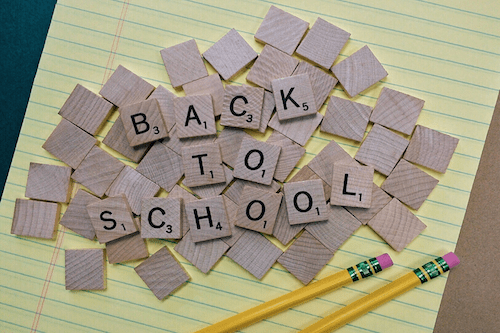 Happy back-to-school season! You can almost smell it in the air—the scents of freshly sharpened pencils, crisp new shoes out of the box and eraser shavings fill your nose. Summer is quickly coming to an end, and parents everywhere are eagerly—or not so eagerly—getting their kids out the front door and into the school building.
There are plenty of things which go along with the start of school—shopping for supplies, new haircuts and maybe even signing up for a club. Of course, one thing which usually accompanies the beginning of the school season are fundraisers. Fundraisers are an important way to give back to your school and raise money to support causes you care about. However, fundraisers aren't the only way to get involved. Here are a few ideas we had for how to give back while going back to school.
1. Share extra supplies.
While you're out shopping for school supplies with your children this year, why not look around and see what extra items you can pick up? Donate any extra items you find to your student's classroom for those students who might not be able to afford their own supplies. Oftentimes, teachers have to dip into their own pocket to provide school items for students in need, so you can help both a student and a teacher by sharing any extra supplies you have.
2. Help a teacher out.
Speaking of helping a teacher, why not take the extra steps to help a teacher out this school year? We're not talking about simply volunteering, but about truly doing something special for the teacher. Surprise your student's teacher with a small gift to start the year, a little treat or even an uplifting note letting them know how much they are appreciated. Small gestures like these are a great way to give back and help a teacher as the school year starts.
3. Cut out box tops.
If your school participates in the Box Tops for Education program, get involved and give back simply by cutting out box tops. Cut out box tops from different food brands and save them to add to your school's collection. At $0.10 per Box Top, the money you give to the school can quickly add up. In fact, over 80,000 elementary and middle schools have earned money through the Box Tops for Education program, which they used to buy necessary equipment and supplies for students. Join the efforts by cutting out and supplying your own box tops.
4. Write thank you notes.
Being an educator can often be a thankless job. Give back this back-to-school season by simply writing thank you notes to your student's teachers, principal, janitor, etc. Show your appreciation for the hard work they do by giving a few words of encouragement. Not only will you brighten their day, but you can brighten your own simply by sharing kind words with others.
5. Bring treats.
Everyone loves treats! Check with your school to see which treats the teacher allows in his or her classroom. If food is allowed, offer up some delicious treats to welcome the students back for the school year. If allergens might be a problem, go a different route with the treats, such as with a pack of pencils, erasers or stickers. Bringing treats can be a great way to give back by welcoming everyone back for the school year.
6. Volunteer your time.
Teachers are always looking for adults to get involved and volunteer with the classroom. See how you can give back and make a difference by volunteering your time with a student's classroom. Maybe that looks like helping to organize the room, take students on a field trip or even monitor a school dance. However you can get involved, see what you can do to give back.
As we head back to school this season, be intentional about how you can give back to your student's teacher, classroom and school. Living an altruistic life doesn't just stop with those closest to us; it keeps going and growing to help support other family and friends in our lives. Show your support for others by using these tips to give back while going back to school.
 
NEW CGC Program - Parenting
For more information about our Parenting Program click here! 
---