Your gift will help change lives one child and family at a time!
$40 will provide food for George and Teddy,
on-site therapy dogs who provide much
love and comfort.
$111 will provide one hour of Outpatient
treatment for a child or family.
$200 will provide clothing and personal care
items for one of the 12 boys in our
Therapeutic Group Home.
$555 will provide art,therapy, and school
supplies for Therapists to use with
children participating in treatment.
$1,000 will provide snacks and dinner for
a month for children participating in the
Extended Day Treatment Program.
Thank you for your support!
Reaching Out
More children are struggling with mental health issues today than ever before. In fact, behavioral and emotional disorders affect thousands of children right here in our community. And it is a sad truth that two-thirds of these kids never receive the help they need.
The good news is that treatment does work for those who receive it.
Child Guidance Center is dedicated to providing child-centered, family-focused mental health services in Lincoln. Utilizing a combination of unique programs and proven strategies to meet every individual's needs, we serve more than 2,000 children and adolescents each year.
The services we provide are available to all youth throughout the community, regardless of financial ability.
Interacting with People Who Have Disabilities
Posted on 06/05/2017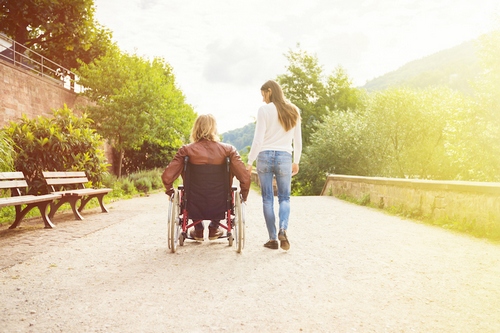 According to the United States Census, nearly one in five individuals live with some kind of disability. That's a pretty high number. Yet for some reason, for those who don't have a disability, it can still be difficult to interact naturally and normally with those who do. Why is this?
Awkwardness or uncomfortability when interacting with people who have disabilities can be traced all the way back to when we were little children. Parents often tell children, "Don't stare!" or "It's rude to ask questions." While these suggestions may be well-intentioned, they can end up having negative consequences later on in life when connecting with people with disabilities.
While every individual is unique and has their own preferences, there are some general guidelines to follow when interacting comfortably and respectfully with people with disabilities.
Just relax.
Oftentimes, the biggest issue when interacting with someone who is disabled is not wanting to be offensive. Able-bodied persons try so hard not to be rude or make a mistake, that they end up getting flustered, awkward or even completely avoiding the individual who is disabled. The first thing to do in situations like this is just relax. If you treat the individual like any other person, he or she will know that you're trying to be respectful, even if you slip up sometimes.
Use "person-first" language.
Many (but not all) individuals prefer what is called "person-first" language. This simply means recognizing the person for who they are, rather than by his or her disability. If you must acknowledge someone's disability, some examples include "Katie has cerebral palsy" rather than "disabled person" or "that girl in a wheelchair."
Avoid patronizing.
No one likes being patronized or treated like a child. Never talk down to a person with a disability. This means avoiding child-like vocabulary, pet names or talking unnecessarily louder than normal. Phrases such as "You are so cute!" or "Wow, look how brave you are" should be avoided. Waking up in the morning and going to the store is not "inspirational," and patronizing remarks or phrases such as this can have an especially negative effect.
Ask before helping.
Most individuals with disabilities know how to take care of themselves, or have someone who is trained to help. While automatically helping someone may seem kind, it can be frustrating or even dehumanizing for a person with a disability. Things such as taking a person's arm and steering them in "the right direction," putting on their jacket for them or pushing someone's wheelchair can be very invasive. If you see a person who appears to be struggling, ask his or her permission first before offering your help.
Don't be afraid to ask questions.
Finally, when you've established a relationship and the situation is appropriate, don't be afraid to acknowledge the person's disability and ask respectful questions. Avoid making assumptions, engage in meaningful conversation and make an effort to get to know the person for who they are, rather than just their disability.
Follow the Golden Rule.
Or better yet, follow the Platinum Rule: treat others how they would like to be treated. Take your lead from the person you're interacting with to see how they prefer to be acknowledged, treated and described. Share in their perspective to gain valuable insight.
Remember: every person is unique and has his or her own preferences. These guidelines are not universal, but can be a great start for bridging the communication gap and interacting across different abilities. Try these next time to see how you can learn and grow in an altruistic lifestyle.
NEW CGC Program - Parenting
For more information about our Parenting Program click here! 
---