Your gift will help change lives one child and family at a time!
$40 will provide food for George and Teddy,
on-site therapy dogs who provide much
love and comfort.
$111 will provide one hour of Outpatient
treatment for a child or family.
$200 will provide clothing and personal care
items for one of the 12 boys in our
Therapeutic Group Home.
$555 will provide art,therapy, and school
supplies for Therapists to use with
children participating in treatment.
$1,000 will provide snacks and dinner for
a month for children participating in the
Extended Day Treatment Program.
Thank you for your support!
Reaching Out
More children are struggling with mental health issues today than ever before. In fact, behavioral and emotional disorders affect thousands of children right here in our community. And it is a sad truth that two-thirds of these kids never receive the help they need.
The good news is that treatment does work for those who receive it.
Child Guidance Center is dedicated to providing child-centered, family-focused mental health services in Lincoln. Utilizing a combination of unique programs and proven strategies to meet every individual's needs, we serve more than 2,000 children and adolescents each year.
The services we provide are available to all youth throughout the community, regardless of financial ability.
5 Reasons to Run for a Charity This Summer
Posted on 06/19/2017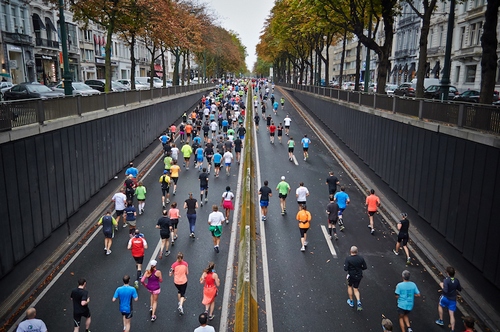 Summertime is here, which means it's the season of swimsuits, tank tops and flip flops. Everyone is out and about, having fun in the summer sun. This time of year, a lot of people try to get in shape for their upcoming vacation, or even just to have that extra boost of confidence at the local pool. But how can you get in shape while also living an altruistic life?
Turns out, exercising and living an altruistic life don't have to be mutually exclusive. There are lots of ways to give back while still getting fit. One way is through a local charity run. If you're looking for a way to get in shape and get involved in the community, we've got you covered. Here are five reasons to run for a charity this summer.
1. A charity run will motivate you.
Let's be honest: running is tough. But what makes everything worthwhile is knowing that you're running for something greater than yourself. Nothing helps motivate an exercise quite like doing it for the benefit of someone else.
Knowing that you're helping to raise money and awareness for a cause you care about is a great way to motivate yourself to work hard and run the best race you can. Running for a cause gives you a purpose—a mission greater than yourself, which will ultimately push you in those last legs of the race.
2. A charity run is open to everyone.
The best news about charity runs? They're open to everyone! You don't have to be a professional runner or even particularly good to participate in a charity run and help raise money for your favorite local nonprofit. You can start at whatever level experience you have and make a difference for a cause. Plus, since most charity runs are open to everyone, it's an awesome opportunity to get your friends and family of all ages and abilities together to participate.
3. A charity run is a great bonding activity.
That being said, a charity run is also a great opportunity for a bonding activity. Getting together and raising money for the same cause is a fun way to bond with friends, family members and even complete strangers. When all of you care about a similar cause, and are going through the same challenges to support that cause, you bond together like nothing else ever could.
4. A charity run is good for your health.
Of course, the obvious reason to run for a charity: it's good for your health! Charity runs are a great opportunity to get out and start exercising for something worthwhile. Whether you're practicing to warm up for the run, the run itself or cooling down for the following weeks, it's a chance to get off the couch and get active. Try it out to see how you start feeling better, healthier and more engaged in an altruistic life.
5. A charity run makes a difference.
Charity runs help make a difference in the community. The money they raise often goes toward an important cause in need, and you can be a part of that. You can help fund research to cure pediatric cancer, bring awareness to a disease that has affected your life or raise support for domestic violence victims in the area. Whatever you care about, chances are there's a charity run for it close by that you can get involved in.
This summer, live an altruistic lifestyle while getting in shape by running for a local charity. Check out nonprofit organizations in your area to see what events are available, then start training! Have fun, get fit and get involved to support a cause you care about.
Wednesday, October 10, 2018 8:00 am - Thursday, October 11, 2018 12:00 pm
NEW CGC Program - Parenting
For more information about our Parenting Program click here! 
---