Your gift will help change lives one child and family at a time!
$40 will provide food for George and Teddy,
on-site therapy dogs who provide much
love and comfort.
$111 will provide one hour of Outpatient
treatment for a child or family.
$200 will provide clothing and personal care
items for one of the 12 boys in our
Therapeutic Group Home.
$555 will provide art,therapy, and school
supplies for Therapists to use with
children participating in treatment.
$1,000 will provide snacks and dinner for
a month for children participating in the
Extended Day Treatment Program.
Thank you for your support!
Reaching Out
More children are struggling with mental health issues today than ever before. In fact, behavioral and emotional disorders affect thousands of children right here in our community. And it is a sad truth that two-thirds of these kids never receive the help they need.
The good news is that treatment does work for those who receive it.
Child Guidance Center is dedicated to providing child-centered, family-focused mental health services in Lincoln. Utilizing a combination of unique programs and proven strategies to meet every individual's needs, we serve more than 2,000 children and adolescents each year.
The services we provide are available to all youth throughout the community, regardless of financial ability.
5 Ways to Cheer Up Someone Who Is Sick
Posted on 10/23/2017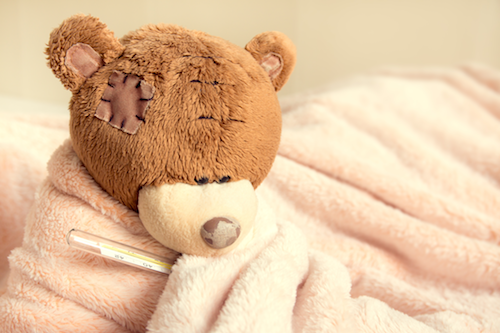 The fall season is upon us, with winter to follow shortly after. Soon we will all be bundled up in our coats, scarves and hats, with dripping noses and chapped lips. Though seasonal changes bring joy and new adventures, they also tend to bring another component: sickness.
In the coming months, bugs, colds and flu will be floating around in the air and sticking to everything we come in contact with. When a friend or family member gets sick, it's difficult to see them lay in bed stifling their sniffles and running a fever. What can you do to make them feel better? Luckily, we have some ideas. Check out these six ways to cheer up someone who is sick in these upcoming months.
1. Listen first, then respond.
The greatest thing you can do to comfort someone you love who isn't feeling well is simply to listen. Oftentimes when a friend or family member is ill, we try so hard to make them feel better, that we push solutions they might not be comfortable with. For example, maybe we think it's best that they sit up, when really they just want to sleep. The first thing you can do to cheer someone up who isn't feeling well is to actually listen to what their needs and desires are before trying to fulfill them. Don't simply tell them what they need. Ask questions and be a comforting ear to cheer them up, before trying to respond and "fix" their problems.
2. Take on their to-do list.
Being sick can be incredibly stressful because our schedules are so full, so trying to take time off makes things come to a grinding halt. Keeping up with kids, work and chores while you're sick is exhausting. If this is the case, listen to what your loved one is stressed about, then ask if there's anything you can take off their to-do list. Maybe you could pick up the kids from school this week while he takes a nap. Or, perhaps you could stop by the office to drop off paperwork for her coworkers. Simple things like this will help enormously in taking the stress off of the ill person. Then, he or she can relax more and focus on getting better, rather than worrying about everything else.
3. Bring food and drinks.
When it comes to sickness, comfort food and hot drinks are some of the best medicine. Ask what you can cook up for your loved one to cheer them up. Or, if food isn't a good option for their stomach at the moment, try a hot, refreshing beverage. Herbal tea is a great choice for comforting the ill and making him or her feel refreshed and rejuvenated. And of course, water is always a perfect choice. When we're sick, it often results in intense dehydration. Keep your friend or family member hydrated and feeling better by drinking water consistently.
4. Do something simple they love.
Being sick can be pretty boring. So, try to engage your loved one by watching a movie with him or her, reading a book together or playing a game. If it's something they enjoy and they're up for, it's a great option. Have fun and make sure they don't get too bored while they're sick, and they will start cheering up and feeling better quickly.
5. Give them space.
Finally, one of the greatest things you can do for a sick friend or family member is just to give them space. They probably don't want to get you sick, and having conversation with someone may be pretty difficult at this point. So, make sure all of their needs are met, then simply leave them alone. When they have space and time to rest and relax, they will start feeling even better.
With seasonal changes coming up, illness is in the air. If your friends or family members get sick, try out some of these tips to cheer them up and make them feel better faster.
NEW CGC Program - Parenting
For more information about our Parenting Program click here! 
---