Your gift will help change lives one child and family at a time!
$40 will provide food for George and Teddy,
on-site therapy dogs who provide much
love and comfort.
$111 will provide one hour of Outpatient
treatment for a child or family.
$200 will provide clothing and personal care
items for one of the 12 boys in our
Therapeutic Group Home.
$555 will provide art,therapy, and school
supplies for Therapists to use with
children participating in treatment.
$1,000 will provide snacks and dinner for
a month for children participating in the
Extended Day Treatment Program.
Thank you for your support!
Reaching Out
More children are struggling with mental health issues today than ever before. In fact, behavioral and emotional disorders affect thousands of children right here in our community. And it is a sad truth that two-thirds of these kids never receive the help they need.
The good news is that treatment does work for those who receive it.
Child Guidance Center is dedicated to providing child-centered, family-focused mental health services in Lincoln. Utilizing a combination of unique programs and proven strategies to meet every individual's needs, we serve more than 2,000 children and adolescents each year.
The services we provide are available to all youth throughout the community, regardless of financial ability.
Posted on 02/19/2018
Return To List
Monday, February 5, 2018 - Friday, February 16, 2018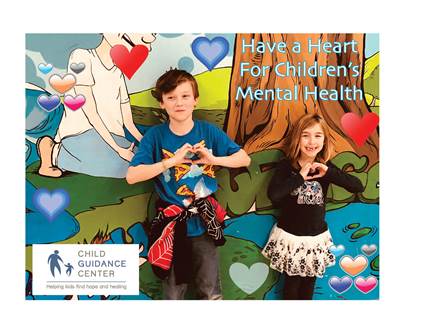 Location:
Online or mail your gift to 2444 O Street, Lincoln, NE 68510
Description:
Have a Heart for Children's Mental Health

The struggle is real! Mental health issues and trauma are hard for anyone to overcome, especially if you're a kid. When things feel hopeless, Child Guidance Center helps families find confidence.

Do YOU Have a Heart for Children's Mental Health? if so, we are asking for your support today so that every child or adult who needs services is able to receive them regardless of their ability to pay for the services. The average cost of an outpatient session for a client without insurance is $111. Even when there is a funding source, there is a gap between what Child Guidance Center is paid for services and what it costs to provide the services. This shortfall ranges from $13.40 - $24.00 per hour of service.

Your heart-felt gift will help ensure that we are able to reach out with expert care to make our community a better place--full of happy, hopeful, healthy families. Thank you for your support!
Contact Information:
Jenny Cardwell, CFRE, Development Director